Expected publication: May 2013
(Goodreads synopsis) When Avery Shaw's heart is shattered by her life-long best friend, she chooses to deal with it the only way she knows how—scientifically.

The state science fair is coming up and Avery decides to use her broken heart as the topic of her experiment. She's going to find the cure. By forcing herself to experience the seven stages of grief through a series of social tests, she believes she will be able to get over Aiden Kennedy and make herself ready to love again. But she can't do this experiment alone, and her partner (ex partner!) is the one who broke her heart.

Avery finds the solution to her troubles in the form of Aiden's older brother Grayson. The gorgeous womanizer is about to be kicked off the school basketball team for failing physics. He's in need of a good tutor and some serious extra credit. But when Avery recruits the lovable Grayson to be her "objective outside observer," she gets a whole lot more than she bargained for, because Grayson has a theory of his own: Avery doesn't need to grieve. She needs to live. And if there's one thing Grayson Kennedy is good at, it's living life to the fullest.
~

My Review~
I love this book! When I first heard of it I was definitely intrigued which can always be a good thing or a bad thing. In this case, it was definitely good. I am becoming a huge fan of Kelly's books. This is one of those books where anyone around you will think your crazy because you will be making some crazy faces and talking to the book (just ask my family and friends).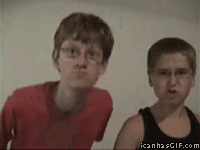 See what I'm saying.
Avery grew up with Aiden and Grayson Kennedy. Avery has been madly in love with Aiden. They were inseparable until one day it dumps her like a bad habit. Imagine not only was she in love but he was her best friend too (I know horrible right!). Grayson comes to the rescue and decides to make it his personal mission to mend her heart.
Even though I want to tell you guys the funniest thing that happens I'm not going to but just know that it is ... "steamy". Well Grayson starts to look at Avery like a girl and not just his little sister but Avery being the innocent, sweet nerd is a tad clueless. Now I have to mention that Grayson is beyond yumm-a-licious. He's got piercing blue eyes, tall, broad, and an amazing body.
Well when Aiden dumps Avery, he also leaves her hanging in the science club and fair. She decided to do her project on how to heal a broken heart. She believes the way to healing a broken heart is through the seven stages of grief (genius if you ask me). Avery recruits Grayson to help by taking her out on dates and guiding her through each stage. In return, she has to tutor him which becomes the science club mission.
I could go on all day about this book. It was just so fun and adorable. I need to find me a Grayson! So if that in itself doesn't make you go get this book then listen closely ...GO READ THIS BOOK NOW!!